Source:
blogywoodbabes.blogspot.com
Do you watch
The Boondocks
? If you do then you know what is a "nigga moment" and why you need to avoid them.
Joe Francis
, the founder of the
Girls Gone Wild
franchise at 6'1", 200 pounds and
Jayde Nicole
, Brody Jenner's girlfriend and 2008 Playmate of the Year at 5'9", 110 pounds went at it last night at
Guys & Dolls
nightclub in West Hollywood and by "went at it" I mean Joe beat the shit out of Jayde. Chris Brown would have have been proud. Francis was allegedly harrassing an ex-girlfriend when the
2008 Playboy Playmate of the Year
,
Jayde Nicole
got involved and threw her drink on Joe. So what did Francis do? Dude had a "nigga moment" and punched Jayde Nicole in the face, knock her to the ground and started kicking the shit out of her allegedly of course.
Radar Online
reports:
The alleged incident happened around 2:46 AM Friday at Guys and Dolls, a club in West Hollywood.

According to Nicole, the attack happened after she spilled her drink on Francis. She says Francis became enraged and grabbed her by the hair, punched her, threw her to the ground where he kicked her.

One of Jayde's friends tried to fight him off and Francis allegedly hit that girl also. Security was called in to try and break it up. Jenner tried to grab Francis' and ended up ripping his shirt. Francis then ran out of club and hasn't been seen since.

A police report has been filed and Nicole said she would press charges.
Brody since updated his Twitter to let fans (really?) know about the incident:
Joe Francis beat up my lady this morning for no reason! Pulled her to the ground, punched & kicked her..what does that say about him?
How can you call yourself a man when you beat up a girl?? Joe Francis is a piece of shit
Joe Francis needs to be in jail!!!
Okay, she lied and say she "she spilled her drink on Francis" when she actually threw it on him but still no need to go medieval on her ass. Anyway, Los Angeles Sheriff County Department is currently looking for Francis which shouldn't be too hard provided they follow the trail of discarded T-shirts and punched-out sorority girls to Mexico. This is the perfect example of a is a "nigga moment" minus the racial overtone. Francis is white but you can't tell me this episode exemplify the overwhelming ignorance of a "nigga moment." Just think of all the witnesses to testify against you, its the middle of a damn club. Dude should have just walked away content knowing he could kick her ass. LOL... Now there is a police manhunt for him. I think Joe Francis needs to go back to jail where he will be repeatedly ass-raped for the next 5 years for being a dumb fuck. Anyway, here is a naked Jayde Nicole to get the thought of Joe getting ass-rape out of your mind. RESPECT!
Click on pictures to enlarge.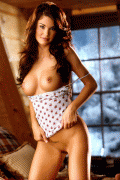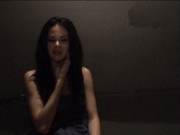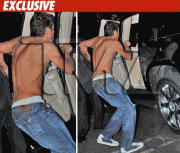 The couple:

------------------------------------------------------------

Jayde Nicole
(born February 19, 1986 in Scarborough, Ontario) is a Canadian model. She is
Playboy
's
Playmate of the Month
for January 2007, and was later named
Playmate of the Year
in the June 2008 issue of the men's magazine. She is the first Canadian Playmate of the Year in 26 years, the prior model being Shannon Tweed.
GutterUncensored.com